Ukraine and the EU will be able to quickly rebuild the country after the war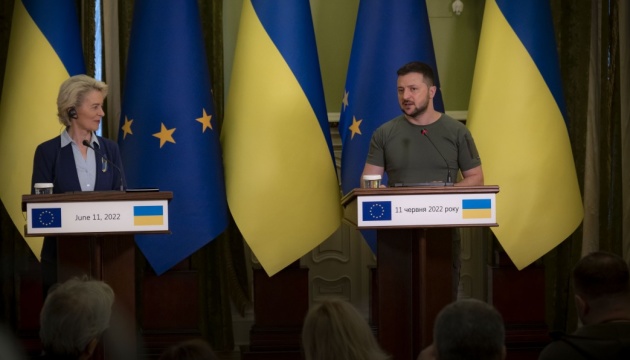 Ukrainian President Volodymyr Zelensky said he was confident that Ukraine and the European Union would be able to quickly rebuild the country after this war.
He said so during a joint press conference with European Commission President Ursula von der Leyen in Kyiv on Saturday June 11, according to a Ukrinform correspondent.
"We are coordinating our steps in this direction in order to synchronize our internal plan for the reconstruction of Ukraine and the European platform for the reconstruction of our state. I believe that together with the European Commission and European countries we can create all the conditions for the implementation of the most ambitious economic project of our time, namely the full and rapid recovery of Ukraine after this tragedy, after this war," Zelensky said.
He thanked von der Leyen for the European Commission's proposal for a new aid program for Ukraine worth 9 billion euros and for the efforts to prepare for the reconstruction of Ukraine after the war.
Zelensky noted that the decision to abolish tariffs and quotas on Ukrainian exports to the European Union has already entered into force. He also thanked for organizing "green corridors" to promote Ukraine's exports.
"We have already started negotiations in the field of transport to conclude an agreement on the liberalization of road transport of goods. In the field of energy, the synchronization of our energy network with that of Europe has reached a new level. exports of our electricity to European Union countries are possible. All this and many other areas of our cooperation strengthen both Ukraine and our EU neighbors and, I believe, they strengthen the whole of the European Union," Zelensky stressed.
Von der Leyen arrived in Kyiv on Saturday to meet Zelensky and discuss Ukraine's progress towards EU membership.