Transgender rights legislation has yet to come into force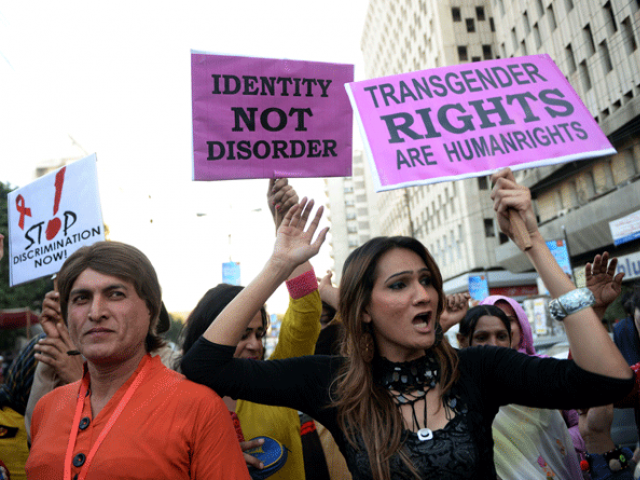 LAHORE:

Even though societal acceptance has seen an uptick, legislation to protect their rights and somewhat fulfill their dreams of inclusion has still not been enacted, dampening transgender hopes.
In recent years, transgender people have won a number of rights, including the right to obtain identity cards, reserved places in educational institutions, inheritance rights and the right to vote. In Punjab, where 6,709 transgender people reside out of a total population of 10,418, according to the 2017 census, the implementation of these rights is flawed due to lack of awareness among the transgender community. It is important to note that, according to experts, the 2017 census figures regarding their population are greatly underestimated.
Aside from the total population debate, the legislation for the protection of their rights, known as the Transgender Persons (Protection of Rights) Act 2018, has not been submitted to the Punjab Cabinet for approval, thus depriving them of a legal framework under which they can lodge complaints. violation of rights or discrimination.
Gul Mehr Syed, a representative of a non-governmental organization (NGO) working for the rights of the transgender community, in an interview with The Express Tribune, said there was still a lot of work to be done to resolve the issues. community issues. "For example, a law was enacted to create separate lines for transgender people and separate voting booths during the election, but their separate voter lists were not made," she informed. She further stated that there was no way to ensure that the several 2% quotas – in Naya Pakistan's housing scheme, health card and local government bodies to name a few a few – were respected.
Heer Alvi, a fashion designer from the community, pointing out another issue, said complaints from the transgender community about sexual and physical violence and discrimination always fall on deaf ears. "Most cases go unreported to police stations," he said. In recent times, to deal with incidents of violence, the Provincial Department of Human Rights, in collaboration with NGOs, has developed a mobile application through which any type of abuse suffered by the transgender community can be reported immediately. and action will be taken by the relevant agencies. However, various independent experts have questioned the effectiveness of the app, saying that since 90% of the transgender community is illiterate, using the mobile phone app seemed impossible. Alvi, however, informed that representatives of the transgender community had received training on the mobile app and other reporting methods.
Zanaiya Chaudhry, a transgender representative in the provincial capital, Lahore, when asked about the provision of rights and reporting mechanisms, told The Express Tribune that not only did they want separate seats in assemblies, but also a quota of employment in the police. "Male and female assembly members don't raise their voices for us, so we need a separate quota like women do. We also need to be recruited into the police department as they are not sensitized on how to deal with trans people," Chaudhry said angrily.
However, Punjab Human Rights Minister Ijaz Masih said the government was doing everything to ensure protection for transgender people and the draft rights bill would soon be sent to the provincial cabinet for approval. "For now, incidents of violence must be reported on the mobile application that we have developed. 2022, will bring new protections to the transgender community," he told The Express Tribune.
Published in The Express Tribune, January 16and, 2022.