Peaceful and happy crowd of about 200 take part in anti-containment rally in Sudbury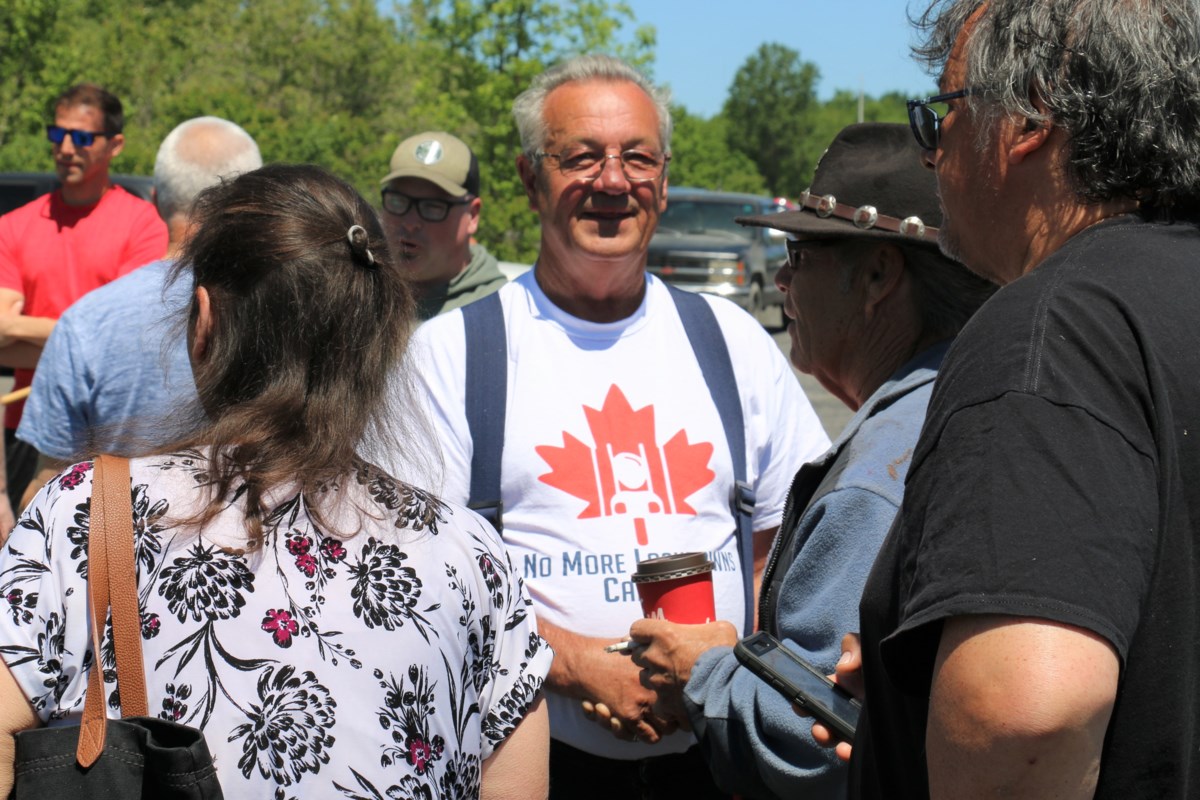 A few hundred Sudbury residents showed up at the south parking lot near Bell Park on Paris and York streets on Sunday to join the anti-lockdown protest and "just say no to the government."
The event was scheduled for 12:30 p.m. to hear comments from famed independent Ontario MPP Randy Hillier, who appeared at similar events across the province to denounce the Ontario government's measures restricting various freedoms during the pandemic.
People started showing up in the upper parking lot until an hour earlier to find a place to sit, stand and meet other people who shared their point of view. Hillier was already there and was treated like a guest of honor with hugs, handshakes, smiles and laughs from those in attendance. In many cases, people viewed Hillier as a celebrity and many of those who arrived wanted to have a photo next to him. Hillier was happy to oblige.
Several people, despite taking pictures of themselves with smartphones, objected to a reporter taking pictures during the rally. A Sudbury.Com reporter was approached by at least four people who said they did not want their photos posted online. No one, possibly other than a Sudbury.Com reporter, wore a face mask or social distancing. The face mask would become a problem later in the afternoon.
Several participants carried flags and placards indicating their dissatisfaction with the current situation.
"We do not consent. We will not comply," said a sign. "My job is essential to feed my family," said another sign.
Many wore t-shirts with No More Lockdowns printed on the front and Flatten The Fear printed on the back.
A woman showed up with a blue and white flag that read Trump 2020 – Keep America Great. Another woman wore a T-shirt with the same slogan.
Another person had a flag that said Fight for Your Freedom. Know your rights.
The event brought together a handful of speakers who all delivered the same message of protest that the government has overstepped boundaries by imposing closures and restricting the movement of people.
They spoke about the importance of letting other citizens know that they don't have to wear masks, follow lockout rules, or even wear masks at work if your employers ask you to.
A speaker encouraged citizens to "just say no" to their employers and to provincial and federal levels of government. Each of the statements was greeted with cheers and applause.
After nearly an hour of speaking, it was not clear if Hillier was going to address the crowd.
When Sudbury.Com approached Hillier alongside the crowd to ask for a comment, Hillier immediately asked.
"Are you not afraid to be here?" Hillier asked.
"What am I?" the reporter said, not sure what he had heard.
"You're not scared ?" He repeated.
Hillier appeared put off by the reporter wearing a mask and speaking through a mask.
Hillier was then asked if he wanted to comment on the extent of the turnout.
"No," he said.
"Do you want to comment on anything?" »He was then asked.
"Not with you," he replied.
"Is there a reason for that sir?" asked the reporter.
"Because freedom is a choice," said Hillier who then turned away.
Hillier's appearance in Sudbury was the second of a two-day tour of the North. He was in Sault Ste. Marie at a similar gathering on Saturday.
At that event, he spoke about the fact that he has been accused more than 20 times for defying provincial measures in the event of a pandemic. The majority of these tickets received were for the organization of events. Hillier said on Saturday he looked forward to the day he appears in court.
"I will argue the merits of these unconstitutional violations, and I am confident that any competent judge who hears the evidence will agree that what we have done is illegal, harmful and unjustified – and these laws will be overturned and overturned," a- he declared. .