Government does not stand up for Afghan interpreters who visited Parliament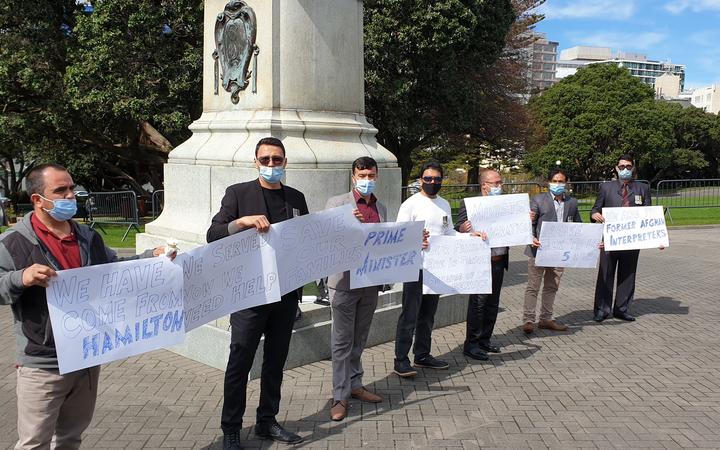 The government is urged to be more outspoken in its plans to rescue hundreds of people trapped in Taliban-controlled Afghanistan.
More than 300 New Zealand nationals and permanent residents, their families and other visa holders were evacuated last month.
The Defense Forces rescue mission was cut short following deadly explosions at Kabul airport. Since then, ministers have been discussing how to help those who remain.
Mazari was an interpreter for New Zealand troops in Afghanistan and relocated here almost ten years ago.
He wanted his family to join him but he said they were trapped and in danger.
RNZ changed Mazari's name because he feared the Taliban would find his family if identified.
"They can't hurt us. We're safe. Our brothers and sisters over there, they're no longer safe."
Mazari applied for a family support visa in 2017 and was told processing would take years.
He wanted the government to speed up the process and reunite him with this family.
"Now this situation is different. Afghanistan is no longer the normal country as before. And now the terrorists, they have taken control of the country, and they rule and they do whatever they want."
Mazari was among a group of interpreters who drove to Wellington from Hamilton and stood outside Parliament for hours on Monday, hoping to meet with the immigration minister.
No one from the government has come forward.
In a letter to one of the interpreters, obtained by the ACT party, Kris Faafoi said he could not meet with them because he was too busy.
ACT chief David Seymour said: "Is he really saying that these people, who have put us in great danger for 10 years, do not deserve 10 minutes while their loved ones see their homes ransacked and , in some cases, killed? It is absolutely scandalous on the part of the minister ".
Faafoi defended his response.
"I don't want to make a habit of going there every time someone comes in, but we understand their plight, and we ask those in charge to do a little homework to figure out what more we can do. "
It was not just the families of the interpreters stranded in Afghanistan.
Hundreds of people eligible to come to New Zealand were left behind after the Defense Forces rescue mission came to an abrupt end.
In recent weeks, ministers have been wondering how to get them out.
Faafoi said the government is considering using the program for refugees.
The refugee quota in New Zealand was 1,500 per year, but that number was reduced at the start of the pandemic.
"We asked the officials to see what it would take to be able to put that back to full capacity or do more in this space as well. But again, we're kind of looking for options as to what we can do."
But National's Gerry Brownlee said ministers were not moving fast enough.
He wanted the government to be clearer on how it was trying to help those who remained.
"I would like to know what their plan is. Because at the moment, we don't have anyone on the MFAT field nearby. There is no one in Pakistan, which would be the logical place to bring people through. "
Ministers are expected to explain how they will help people in a country that Defense Force troops cannot enter and which is run by a government New Zealand has not recognized, Brownlee said.