30 years, 90 minutes ago that changed Indian history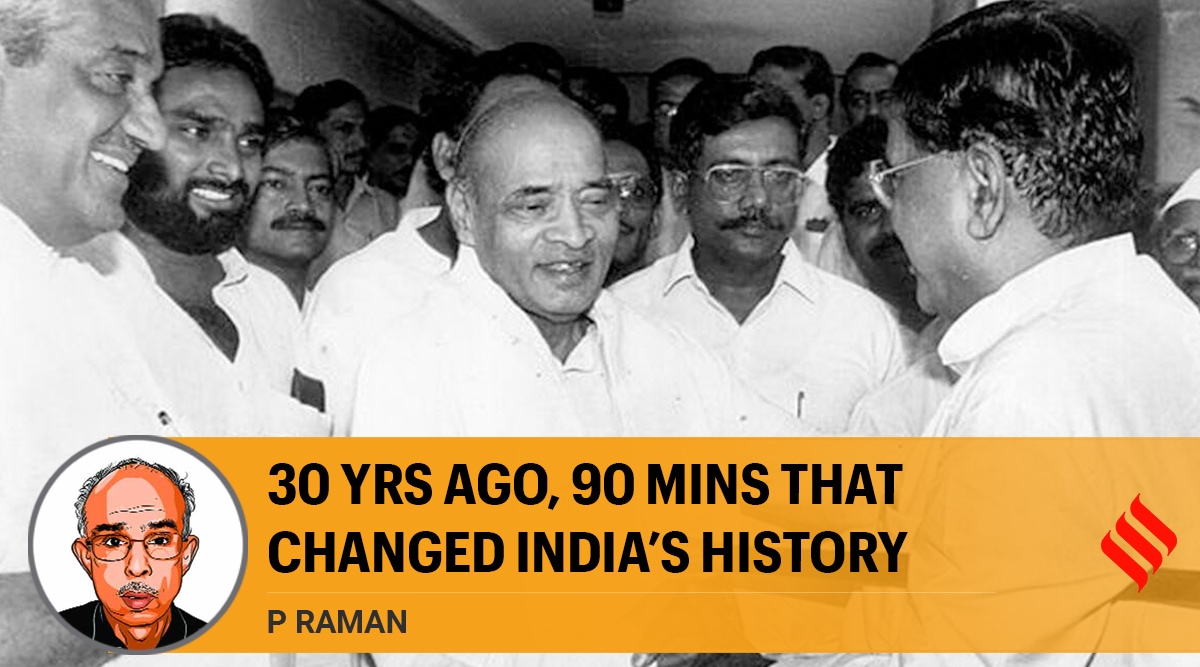 THIRTY YEARS ago, the Parliamentary Party of Congress unanimously elected Narasimha Rao as its Prime Minister-designate. After the meeting held at Central Hall, Rao, accompanied by Arjun Singh, went directly to Rashtrapati Bhavan to demand the formation of the government.
That day, June 20, 1991, also witnessed another tectonic resolution: the Prime Minister designate gave the green light to accept a controversial IMF loan, paving the way for the country's economic liberalization. And, this historic event took place in a most dramatic setting. Congressional leaders and ministerial aspirants had gathered in large numbers at the Teen Murti Lane residence in Rao when he received the presidential invitation. It was past 2 o'clock. The first thing the Prime Minister-designate did was go to January 10 to ask for blessings from Sonia Gandhi.
Upon his return, Narasimha Rao received a message from Cabinet Secretary Naresh Chandra. He asked for an urgent appointment. It was not a case of the usual briefing that every elected prime minister receives from the chief bureaucrat. Naresh Chandra insisted the date couldn't wait any longer. The finance secretary and a series of senior officials with files were present at the meeting. The finance secretary's presentation lasted around 90 minutes, and all the while party leaders eagerly awaited Teen Murti Lane for Rao's return.
It was those crucial 90 minutes that paved the way for India's historic decision to liberalize its economy in 1991. Rao learned that foreign exchange reserves had dropped to Rs 2,500 crore, just enough to cover three months of 'imports. This forced the Ministry of Finance to pledge 47 tonnes of confiscated (contraband) gold in SBI coffers. The rating agencies had also lowered India to the "dangerous" level. External debt represented around 22% of GDP and domestic public debt 56%.
Amid the looming political uncertainties, officials said, they had entered preliminary negotiations with the IMF in Washington for a support loan of $ 2.3 million for a period of 20 months. For this, the IMF insisted on a set of written and unwritten conditionalities. Now, the cabinet secretary said, it was up to political leaders to decide whether or not to continue negotiations. Rao asked for some clarification. He was firm and dry. He ordered the Cabinet Secretary to continue negotiations. This was followed by a separate 10 minute meeting with Naresh Chandra. This all happened before Rao was sworn in as prime minister.
Returning to Teen Murti Lane, Rao greeted the waiting supporters and entered to hold consultations with senior leaders such as Arjun Singh, Pranab Mukherjee and ML Fotedar. None of them had the faintest idea of ​​his green light for the IMF loan. As political discussions continued, PC Alexander contacted IG Patel and asked if he could take over as finance minister. Sick and weak, Patel said he was unable to do so.
Alexander then called Manmohan Singh, who didn't take the offer seriously. He only accepted it when Rao made a personal request. This forced Singh to cancel a planned dinner with friends.
When they met, Rao gave Manmohan Singh carte blanche. According to Devendra Dwivedi, the additional former solicitor general and close aide to Rao, shortly after taking the oath at Ashoka Hall, Manmohan Singh handed the prime minister a handwritten note. The first suggestion was not to put reform issues at Cabinet meetings where colleagues were sure to block them. The note contained step-by-step measures to meet IMF conditions.
In accordance with this plan, a devaluation of the rupee of 9% was announced on June 30 of the same year and of 11.83% on July 2. The next day, Minister of Commerce P Chidambaram announced the new trade policy. He abolished the quota system and abolished restrictions on exports. It contained a whole series of trade liberalization measures in accordance with IMF requirements. In his first reform budget, Manmohan Singh announced a sharp 26% price hike for gasoline, diesel and LPG, new taxes to net rupee 2,617 crore, and a cash-for-money amnesty program. clean black.
There was fierce political opposition. Most congressional leaders were skeptical about dismantling the Nehruvian structure. Rangarajan Kumaramangalam and Harish Rawat warned that Congress would lose the following elections. The BJP opposition was sharply divided, with then party chairman Murli Manohar Joshi and a dominant section claiming that IMF conditionalities seriously undermined India's sovereignty.
On June 26, Rao separately informed Vice President Singh, LK Advani, Harkishan Singh Surjeet and Chandra Shekhar of India's acceptance of the IMF terms. The next day, the PM and the FM explained to the opposition leaders that it was inevitable to contract the IMF loan. Advani, George Fernandes, Madhu Dandavate, Surjeet and Yashwant Sinha said they were opposed to conditionalities such as subsidy cuts.
On July 4, 1992, IMF chief Michel Camdessus said he was satisfied with the implementation of conditionalities.
P Raman is a senior journalist and author of Post-Truth Media